What is robotic assisted surgery?
Robotic surgery or robot-assisted surgery allows your surgeon to perform complex surgical procedures by using instruments that guides via a console. The 'robot' has a camera arm and mechanical arms with surgical instruments attached to them. The surgeon controls the arms while seated at a computer console near the operating table.
The da Vinci system translates your surgeon's hand movements at the console in real-time, bending and rotating an advanced set of instruments while performing the procedure. The tiny wristed instruments move like a human hand but with a greater range of motion. The da Vinci vision system also delivers highly magnified, 3D high-definition views of the surgical area.
This system allows for more precision, flexibility and control than is possible with conventional techniques. Robotic surgery is usually associated with minimally invasive surgery as the instrument size makes it possible for surgeons to operate through one or a few very small incisions.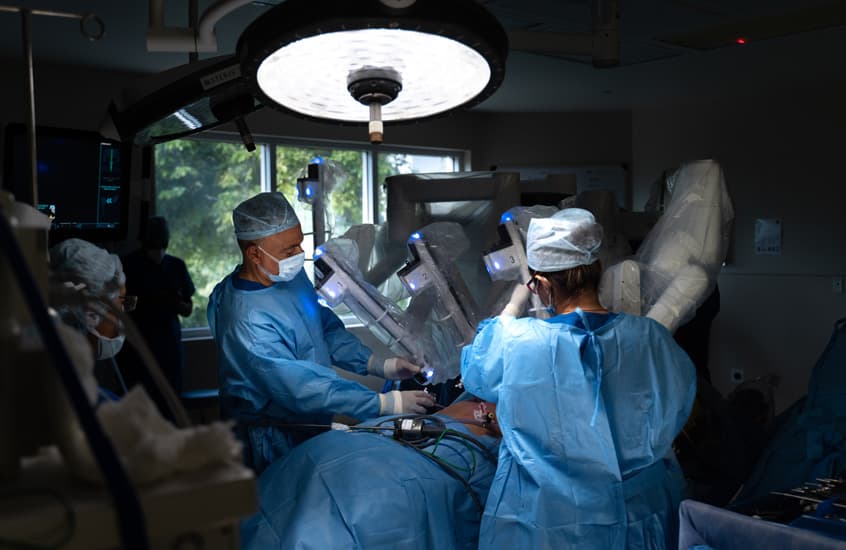 How long has this been available in the Cayman Islands?
Dr. Stone performed the first robotic assisted laparoscopic surgery in the Cayman Islands on May 7th at the Health City Cayman Islands hospital in East End.
Having performed, proctored and assisted in hundreds of robotic assisted laparoscopic procedures in the United States, Dr. Stone has been working over several years to have the system available in Cayman. With Health City Cayman Islands procuring the system in partnership with OceanMed, Dr. Stone is now able to offer the procedure to his patients.
Why would I need robotic assisted surgery?
The system can be used to assist in performing resection of endometriosis, myomectomies (uterine fibroid removal), pelvic organ prolapse repairs, and hysterectomies through incisions smaller than the width of a finger. Robotic assisted minimally invasive surgeries reduce the potential for bleeding, lower the risk of infection, decrease the risk of injury to other tissue organs, reduce postoperative pain and result in shorter recovery times when compared to open surgeries.
To determine if you are a candidate for robotic assisted surgery, you should book a consultation with Dr. Stone.